Villas of Muskoka is an exclusive, condo cottage community located in the heart of Muskoka on beautiful Lake Muskoka.
Enjoy these stunning cottage's while having access to all the amenities right at your door step. The Villas have a private beach, docking and boat slips, land and water activities, fire pits and Clubhouse. Bring your family and friends together to enjoy the cottage life!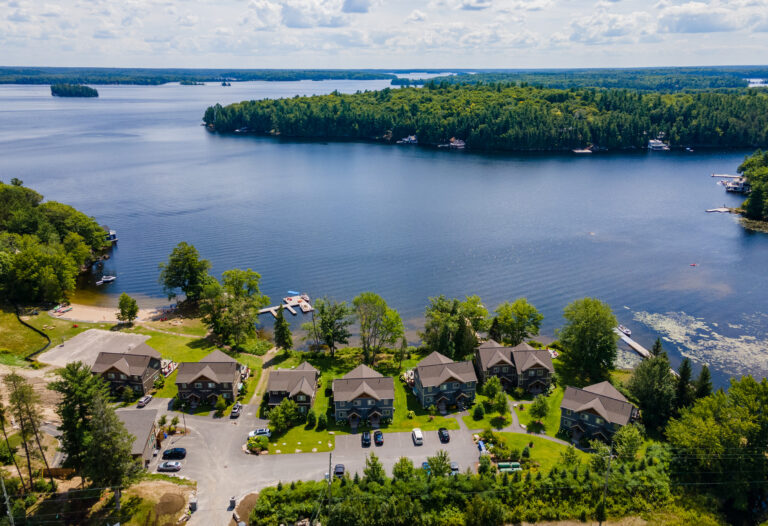 ---
The Villas
The Villas of Muskoka is ideally located between Port Carling and Bracebridge. Across the road from the Fairways of Kirrie Glen golf course. Buildings 1-7 of the 22-unit development are completed and ready for occupancy. Designed and built by Cedar Coast Timber homes, the villas feature warm wood finishes throughout to create a cozy Muskoka feel. The quality of the villas can be seen in the high-end finishes and fixtures including the hardwood floors, feature wood ceilings, with exposed beams and vaulted ceilings in the great rooms of the duplex units. Experience maintenance free living with on site management. We offer a fully managed rental program for this investment in which you can benefit. Mandatory 12 weeks rental, 2 during summer season. Prices subject to HST. Zoned Tourist Commercial.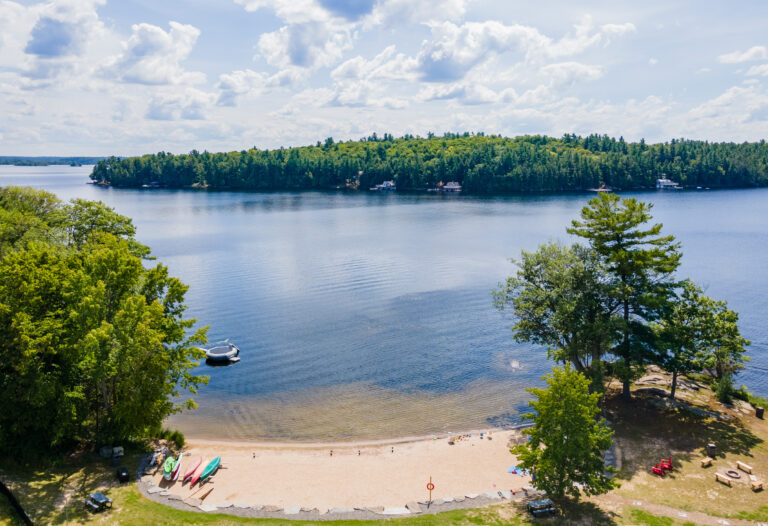 Duplex Villa
2 Bedroom plus Den and Loft, 2 Bath 1588 sq ft
Open concept main floor with great room looking out to
the lake
Walk out to expansive deck from dining area with propane BBQ
Exposed beams on main floor and wood ceilings in master, kitchen, living and dining rooms
Solid pine doors and trim throughout
Solid wood staircase with open railings, hardwood floors
Feature gas fireplace with live edge solid wood mantle and built-in shelving on either side
Master bedroom with walk out to private deck
Tastefully furnished and equipped, stainless steel appliances
---
Questions and Answers about Purchasing a Condo
at the Villas of Muskoka
What type of Ownership is the Villas of Muskoka? – This is whole ownership with a mandatory rental program of 12 weeks per year. 2 weeks during summer season.
Are the Villas Furnished? – Yes, the Villas are fully furnished.
Do I have to put Villa in the Rental Program? – Yes. The zoning of the property is Tourist Commercial and requires a rental program component. 12 weeks is the minimum, but you may put it in the rental pool more often if you wish. 2 of the 12 weeks must be between June 15 and September 15 of each year. The other weeks can be anytime during the year.
Do I Have to Pay HST On The Purchase Price? – Individual purchasers of the Villa units will be required to self-assess for the HST due on the purchase price but will be able to claim an off-setting input Tax Credit provided the purchaser is registered for HST purposes and plans to leave their Villa substantially in the rental program. We recommend you consult with your accountant and lawyer.
What Taxes do I have to pay? – As the owner you will pay your own property taxes to the Township of Muskoka Lakes. Estimated 1% of the assessed value of Villa. Muskoka Lakes Township may adjust.
What are the Condo Fees? Condo fees are .59 cents / square foot per month plus HST
What do common elements cover for your resort Villa? – The common element fees include insurance, water, internet, reserve fund contributions, shared costs of snow removal/landscaping and all exterior maintenance of your Villa and common areas.
What utilities are owners responsible for? – Propane and hydro are separately metered and are the responsibility of the individual owner.
How does the rental program work? – The rental program is managed by a management company and is based on a 60/40 split with the Owner and the Property Manager. Cleaning and linen fees charged before split. Resort occupancy and Villa rates will be charged according to market demand.
Do I get a parking space with my unit? – Yes, one parking space comes with the 4-Plex 2-bedroom Villa and 2 parking spaces come with the other Villas. Overflow parking is available on the property free of charge.
Can I re-sell my Villa? – Yes, Once the deed and title for your Villa is registered in your name, you can sell your unit either privately or through a licensed real estate agent.
Is there a Pet Policy? – Yes, we have a Pet Policy and pets will be permitted with guidelines for owners only.
Is Smoking Allowed? – Smoking is not permitted in the Villas or any of our indoor spaces. Our guidelines have outlined where it is most suitable to smoke.
Are there boat slips available? – Yes, we have boat slips available. They are for rent daily, weekly, or seasonally with rates adjusted on a yearly basis, they are to be booked in advance. –